Published on: Mar 01, 2016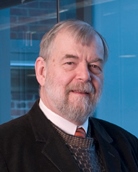 Ken Foster
Professor in Bioengineering (BE)
School of Engineering and Applied Science
University of Pennsylvania
The most prestigious Award of the Bioelectromagnetics Society is the d'Arsonval Award. The purpose of the d'Arsonval Award is to recognize outstanding achievement in research in bioelectromagnetics. The sole requirement is extraordinary accomplishment within the discipline of bioelectromagnetics, which can consist of exceptional scientific accomplishments or practical application of electromagnetic fields for human benefit.
This year again, the Bioelectromagnetics Society had the challenging task to choose between outstanding nominations competing for the 2016 d'Arsonval Award. These nominations were first carefully reviewed by the 10 members of the BEMS Awards Committee (composed of 5 board members and the last 5 d'Arsonval Award winners) before a recommendation was submitted to the Board of Director for the final vote.
In conclusion of this process, we are now very pleased and honoured to announce that Prof. Ken Foster is the 2016 d'Arsonval Award winner, in recognition of his outstanding achievements in Bioelectromagnetics Research.
Prof. Foster has made numerous significant contributions in various fields of bioelectromagnetics ranging from interaction mechanism of RF hearing effect to societal concerns and public health policy concerning biological effects of various electromagnetic sources.
Congratulations Ken!